Nepal is a land of extreme contrasts in climate and geography, and has a unique topography ranging from lowlands with sub-tropical jungles to arctic conditions in the Himalayan highlands. Within a mere 150 kilometers the land rises from near sea level in the south to over 8000 meters in the North. This, together with the monsoon rainfall along the south facing slopes, has resulted in compacting virtually all climate zones found on planet Earth. As a result, Nepal has been endowed with a great diversity of life-zones providing a home for a large variety of plants, birds and animals.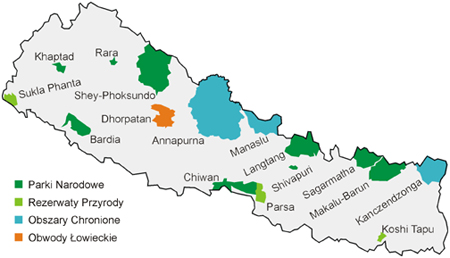 Nepal's landmass of 147,181 km2 occupies the central part of the Himalayas between the Palearctic and Indomalaya ecozones. Altitude ranges from 67 m above sea level in the south-eastern Terai to 8,848 m at Sagarmatha within a short horizontal span. This extreme altitudinal gradient has resulted in 11 bio-climatic zones ranging from lower tropical below 500 m to nival above 5000 m in the High Himalaya, encompassing nine terrestrial ecoregions with 36 vegetation types. Botanists recorded 1,120 species of non-flowering plants and 5,160 species of flowering plants. Nepal ranks 10th in terms of richest flowering plant diversity in Asia. Zoologists recorded 181 mammal species, 844 bird species, 100 reptile species, 43 amphibian species, 185 freshwater fish species, and 635 butterfly species. In recognition of the magnitude of biodiversity the Government of Nepal has established a network of 17 protected areas since 1973, consisting of ten national parks, three wildlife reserves, three conservation areas and one hunting reserve. Additionally, three Ramsar sites were declared in 2003. In total Nepal's protected area consists of 19.70% of the country total area.


Protected areas in Nepal
Nepal has established a network of 23 protected areas of different categories which provides conservation to at least 80 of the country's 118 ecosystems. Protected areas of Nepal can be classified into the following types:


National Parks:
An area set aside for the conservation and management of the natural environment including wild animals, plants and landscapes together with their utilization.

Reserve:
A general term including strict nature reserve, hunting reserve and wildlife reserves.

Conservation Area:
An area set aside for the conservation of the natural environment and the natural resources, for its utilization in a balanced way on the basis of an integrated management plan.

Buffer Zone:
An area designated surrounding national parks and reserves in order to provide for the use of forest products to local people.

National Parks (in alphabetical order).
Banke National Park (550km)
Bardiya National Park (968km)
Chitwan National Park (932km)
Khaptad National Park (225km)
Langtang National Park (1710km)
Makalu Barun National Park(1500km)
Rara National Park (106km)
Sagarmatha National Park (1148km)
Shey Phoksundo National Park (3555km)
Shivapuri Nagarjun National Park (169km)

Wildlife reserves (in alphabetical order).
Koshi Tappu Wildlife Reserve (175km)
Parsa Wildlife Reserve (499km)
Sukla Phanta Wildlife Reserve (35km)

Conservation areas (in alphabetical order).
Api Nampa Conservation Area
Annapurna Conservation Area (7629km)
Blackbuck Conservation Area
Gaurishankar Conservation area
Kanchenjunga Conservation Area (2095km)
Manaslu Conservation Area (1663km)

Hunting Reserve
Dhorpatan Hunting Reserve (1325km)

Ramsar Sites (in alphabetical order).
Beeshazar Tal (3200 ha)
Ghodaghodi Tal (2563 ha)
Jagdishpur Reservoir (225 ha)